Resins have been burned for thousands of years to purify, protect, and prepare for ritual or ceremony. Resins are considered non-combustible incense and are left whole or powdered and mixed with aromatics. Once you place the resin on lit coal, the aromatic smoke spreads and rises to cleanse, uplift, and sweeten.
Currently available in 1 oz vials.
Myrrh
Experience this sacred gift from the Magi. This aromatic rErin has been used for thousands of years to help lift and heal, connect to spirit, raise consciousness. 
Seven Angels
This classic blend of sacred resin is said to attract protection, health, open roads, love, and luck. Carry your prayers to heaven during the ritual with this lusciously aromatic blend.
Please use caution when burning incense resin.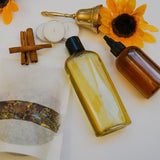 More from this collection