Two of our best-sellers to help alleviate cramping and reduce stress, while building a beautiful relationship with Self. 
What's Included:
1 - Physical Copy of PERIOD: Rituals for the Womb
RITUALS FOR BALANCING YOUR HORMONES AND DEVELOPING A DEEPER CONNECTION WITH YOUR WOMB. 
REDUCE MENSTRUAL CRAMPS // DEVELOP WOMB CONNECTION 
+ Eliminate menstrual cramps, hormonal acne, and PMS symptoms

 
+ Lose weight naturally WITHOUT unhealthy, deficient

 

crash diets

 
+ Enjoy clearer thinking, more energy, and better relationships with yourself and others
+ Control depression, anxiety, and stress
+ Correct imbalanced causes by birth control, unhealthy crash diets, and endocrine disrupters

 
+ Heal the womb, heal the world, and love yourself.

 
If you suffer from menstrual cramps or just say "I wish I wasn't a woman / I wish I didn't have a period" -- this book is for you. This guidebook is designed to help you learn how to restore
 a healthy hormone balance with foods & rituals that support womb connection & proper hormone production and detoxification that is in alignment with our uterine & menstrual cycles.
1 - Magnesium Cramp Relief Spray (Aromatherapy)
CRAMP RELIEF // SLEEP AID // STRESS RELIEF 
Ingredients: 

Distilled water, 100% pure magnesium chloride, 100% pure essential oil aromatherapy blend, castor oil
Directions: 
To use as a daily supplement, spray all around the neck. To relieve menstrual cramping, spray directly on the lower back and on the womb / area beneath your belly button (avoid genitals). To help promote restful sleep, spray on the bottom of feet. To use after a workout, spray on muscles. 
RELIEVE CRAMPING WITH OUR UNIQUE MAGNESIUM OIL SPRAY POWERED WITH AROMATHERAPY. GREAT FOR AFTER WORKING OUT, DURING MENSTRUAL CYCLE, OR BEFORE SLEEP, THIS IS A PERFECT WAY TO GET RELAXATION AND PAIN RELIEF FAST. 6000 MG OF MAGNESIUM CHLORIDE PER BOTTLE.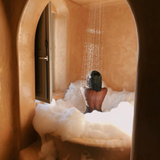 More from this collection