Magnesium Salt Bath & Foot Soak (Spiritual Herb + Salt Bath)
Relaxing & pain-relieving magnesium salt ritual bath & foot soak.
CRAMP RELIEF // SLEEP AID // STRESS RELIEF // ENERGETIC CLEARING
Soak pain, cramps, and stress away with our reformulated 5-Flower Magnesium Bath Salts & Foot Soak. 
5-Flower & Magnesium Salt Spiritual Bath is a restorative, pain-relieving, balancing, and rejuvenating New Year's Party in your bath tub. Exactly what you need after 2020!
Pour ½ cup of salts to a hot bath, or ¼ cup of salts to a warm foot bath. Soak stress away for at least 20 minutes in this herbal, salt blend that is perfect for relaxing the body, dissolve self doubt, and bring luck and love in the new year, or just after a long, long week. Because of this unique blend of pure Zechstein magnesium chloride with magnesium sulfate, this blend is more effective that just soaking in Epson Salt - so you have better relief, better sleep, and more energy.
Fragrant herbal blend of grounding yarrow, pink and red roses, balancing lavender, and nourishing chamomile and calendula power this blend with their soothing, healing, and uplifting energy.
The mineral rich blend of pure Dead Sea salt, magnesium chloride, and magnesium sulfate softens skin, relaxes the body, and helps your body absorb magnesium. 
Studies show that 70% of all Americans are deficient in magnesium. Magnesium is required for over 300+ bodily functions, and being deficient in magnesium can negatively affect nerves, muscles, cognition, and sleep.
The magnesium in the high quality salts in this bath and foot soak can be absorbed into the skin, so your body can have a dose of Magnesium it could be missing. This can help reduce inflammation, provide quick relief for pain, while calming the physical and spiritual body.
Ingredients: 100% Pure Dead Sea Salt, Magnesium Chloride & Magnesium Sulfate Blend, Organic Herbal Blend for Self Love, 5-Flower Blend (organic pink and red roses, organic blue lavender flowers, organic jasmine flowers, organic calendula, chamomile)
Comes with a muslin bag for easy clean-up.
Do not use if pregnant.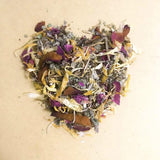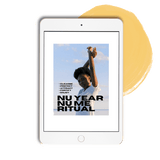 More from this collection