Beauty Bomb Herbal Supplements with Amla, Horsetail, and Seamoss
A plant based multivitamin to support healthy skin, lustrous hair, and strong nails. This blend of mineral rich herbs, roots, berries, & mushrooms come together to beautify you from the inside out.
Directions: take up to 3 pills daily. Be sure to drink at least 64 oz of water each day when taking these pills.
Ingredients: amla berries (organic), bladderwrack (organic), burdock root (organic), chaga mushrooms (organic), horsetail (organic), Irish moss (organic), marjoram (organic), nettle leaf (organic)


Key Features:
HORSETAIL: silica & biotin for strong hair & nails

CHAGA MUSHROOM: cell repair & antioxidants for skin regeneration

SEA VEGGIES: minerals, peptides, & amino acids for hydrated skin & hair

AMLA: vitamin c & phytonutrients for collagen synthesis

NETTLE: vitamin a & iron for improved cell regeneration + blood circulation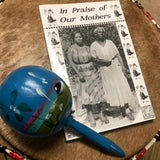 More from this collection