"Up In Smoke" Herbal Blend
Ritual and recreational herbal blend to use for ceremony and relaxation. This blend has anti-anxiety, lung soothing, and pain relieving ingredients to relax, balance, and inspire.
"Traditionally, incense & other smoking rituals had a purpose of carrying thoughts and prayers to the spirit world or to the Creator."
The act of smoking is a ritual the ancestors enjoyed socially, during ceremony, and medicinally for a variety of reasons. Our "Up in Smoke" Herbal Blend  - with a base of lung soothing MULLEIN, relaxing SKULLCAP, with a touch of MINT is the perfect wind down after a long day.
Enjoy with your choice of add ins. Available in 6 pre-rolled cigarettes or in loose herbal blend. Rolled in pure, unrefined hemp.
Base Blend Ingredients: Mullein, Skullcap, Mint
EVERYDAY VIBE for relaxation: base blend + blue lotus

NAIMA'S BLEND for nervous system support + pain relief: base blend + blue lotus, damiana, clove, red raspberry leaf
INGREDIENTS:  
    
MULLEIN: Soothes lung inflammation, breaks up congestion in the lungs and promotes "productive" coughing to remove mucus. Traditionally smoked to heal lung infections.

SKULLCAP: 

Alleviates anxiety and insomnia, promotes healthy sleep patterns

MINT: 

Flavors blend, soothes respiratory system. Light flavor, perfect for switching off tobacco

BLUE LOTUS: 

Promotes peaceful relaxation, has aphrodisiac qualities, calms nerves

 
RED RASPBERRY LEAF:

Soothes and relaxes nervous system, eases menstrual cramps, neutralizes nicotine poisoning




CLOVE:

 

Numbs the throat, flavors blend

DAMIANA: 

Relaxes body, enhances mood, soothes nervous system, releases tension
Base Blend Ingredients: Mullein, Skullcap, Mint
EVERYDAY VIBE for relaxation: base blend + blue lotus
NAIMA'S BLEND for relaxation + nervous system support + pain relief: base blend + blue lotus, damiana, clove, red raspberry leaf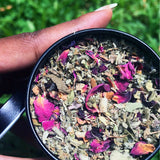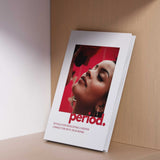 More from this collection