4-PG Herbal Supplement by New Body
Created by Dr. Paul Goss, 4-PG is a combination of herbs put together in the right combination to give the body some of all vitamins and minerals known to man.
VITAMINS: A, B, C, D, E, F, G, K, P, T, U.
MINERALS: Aluminum, Calcium, Chlorophyll, Chlorine, Copper, Flourine, Iodine, Iron, Lithium, Manganese, Phosphorus, Potassium, Selenium, Silicon, Sodium, Sulfur, Zinc.
TRACE MINERALS: Boron, Bromine, Nickle, Stronium, Vanadium. 
Directions: As a superb addition to the diet, one or two capsules (as desired) may be taken orally with meals or with a glass of water.
Ingredients: Alfalfa, Kelp, Dandelion Root, Capsicum
Disclaimer: This product is not intended to diagnose, cure, or treat an aliment. HE-RT is intended to be used as a dietary supplement. Always consult your doctor before starting and/or taking any supplement This information is for educational purpose only and should not be taken as medical advice or instruction. If medical assistance is needed please contact a medical practitioner.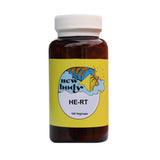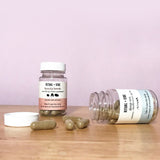 More from this collection