The Little Brand Book - How To Brand Your Online Business
This workbook is designed to help you turn your business into a brand! You just became your very own brand consultant. Includes Instagram Content Pack.
Turn your business into a brand with this interactive branding workbook! If you struggle to find a consistent, moving brand story to stick to – Brand Essentials is designed to simplify the process of building a brand. Create a cohesive, consistent, and valued structure for your brand with the Brand Essentials! 

This step-by-step workbook helps you organize all of your brand details, and also gives you tips on how to apply brand elements strategically. 
Included:
Detailed 25-Page Branding Workbook

Companion Brand Book Worksheet & Template

Each section captures each key part of your brand's identity (b

rand positioning, customer landscape, brand tone & messaging, brand identity)

Unique Value Proposition Creator to help you create your first Unique Value Proposition! 
Hints, tips, and resources to help you understand your brand better

BONUS - Instagram Content Strategy (How I Grew my IG page from 1000 to 12,000 in 6 months!)

BONUS - Instagram Planner & Analytics Dashboard

BONUS - 80+ Resources for Small Businesses & Solopreneurs 
THIS FILE IS A ZIP bc it's packed with so many goodies! Here is how you open a zip file on an iPhone (very easy!). Here is how you open a zip file on an Android (very easy!)
A brand so much more than a pretty logo. A brand:
Understands the hidden WHY

behind your business by analyzing the audience, exploring the market landscape, & engineering a better future

Catches the right eye with a

visual identity

that is unique to your values and resonates with your consumers by being constant everywhere - web, social, and print.

Establishes a

voice and tone

that sparks honest conversations unforgettable experiences. Your brand should be very precise and specific with your language. The strongest brands have a very distinct voice. If nothing else, have very clear messaging that supports business goals and aligns with brand values. 
It helps you not only help you plan your brand, but also be a central point for you to reference to keep your brand in check. If you are starting your first business in 2020, this is a must have! 
Copyright Notice: This workbook was made for you to brand your business. You may not sell, distribute, or repurpose the contents of this workbook. You may update this workbook with the elements of your brand as dictated in the instructions, and you may share the updated workbook internally and with agencies as a reference tool only. All rights reserved.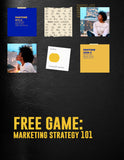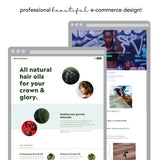 More from this collection