In Praise of Our Mothers by John Mason
This book highlights and clearly and fully examines the innovations of at least ten of the female (women) Órìşhá: Odò, Nàná, Yémòwó, Órìşhá Oko, Yęmoja, Òbà, Oya, Òşun, Odu, and Aaja. What great inventions, deeds, or teachings did they initiate to cause us to evoke their spirits in our times of need and distress?
Hundreds of thousands of years later, through wars, societal upheavals, savage transplants, and chattel slavery, their spirits and sagas continue to inspire devotion, emulation, and action; even when those contributions are no longer clearly understood.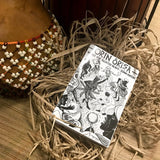 More from this collection