Oshunita (Freebie) Self Love Ritual Book
Free sample of the popular OSHUNITA Self Love Ritual - step-by-step multisensory ceremony you can do at home that is helps bring out your own little goddess energy - your own Oshunita.
SELF LOVE & SELF REFLECTION RITUAL / BOOST CONFIDENCE / ATTRACT ABUNDANCE & LOVE 
Stop falling and ride into love with yourself with this Self Love Ritual & Ritual Kit. 
This OSHUNITA Ritual is designed to help you create that magic within yourself by supporting healthy confidence and self love needed to attract and manifest like a goddess.
With this Oshunita freebie, sample elements of the full book which explores: 
How to connect with the Oshun energy & ignite Your Inner Goddess
When, where, and how to prepare a self love ritual with step by step instructions using simple, everyday ingredients
How to create your own manifestation & attraction oils, baths, and teas
Herbs & tools to use in your everyday life to attract more into your life
Bonus attraction "spells" that you can use as needed
Detailed, 33-page, Step-by-Step Oshunita Ritual you can do at home with simple ingredients you already have in your kitchen. Includes bonus recipes or "spells" to use to help embody this energy on a daily basis. Included in all kits, or can be purchased individually.  
OSHUNITA is a pre-curated self care ritual ebook & ritual kit designed to boost your confidence and attract more love and sweetness into your life. Inspired by Yoruba Orisha, Oshun - the "godess" or essence and spirit of love and beauty, confidence, life, and self esteem, Oshunita is powered with some of the herbs, fruits, and scents that Oshun finds sacred. Oshun means Source or Spring in the Yoruba language, and she is known for her intelligence and charm. 
Invoke Her essence inside of you with this powerful ritual. 
by Ritual+Vibe | Spiritually Charged Self Care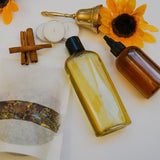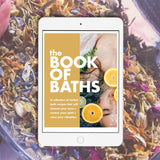 More from this collection