PERIOD: Heal Your Womb & Balance Hormones
Learn how to reduce & eliminate period woes like PMS & menstrual cramps while you develop a deeper connection with your womb in this book! Available in digital and physical books. Great gift!
PERIOD.
Rituals for balancing your hormones and developing a deeper connection with your womb.
Reduce Menstrual Cramps // Develop Womb Connection 
+ Eliminate menstrual cramps, hormonal acne, and PMS symptoms 
+ Lose weight naturally WITHOUT unhealthy, deficient crash diets 
+ Enjoy clearer thinking, more energy, and better relationships with yourself and others
+ Control depression, anxiety, and stress
+ Correct imbalanced causes by birth control, unhealthy crash diets, and endocrine disrupters 
+ Heal the womb, heal the world, and love yourself. 
If you suffer from menstrual cramps or just say "I wish I wasn't a woman / I wish I didn't have a period" -- this book is for you. This guidebook is designed to help you learn how to restore a healthy hormone balance with foods & rituals that support womb connection & proper hormone production and detoxification that is in alignment with our uterine & menstrual cycles.
Want to read an excerpt? Check it out. 
PHYSICAL BOOKS COME WITH THE E-BOOK.
Included: 
60-page in-depth e-guide with rituals for connecting with the womb
Re-education on the menstrual cycle
How to eat for your womb (plant-based, pescatarian, and meat eater friendly)
How to minimize and eliminate menstrual cramps with hormone balancing foods & supplements 
Womb Connecting Rituals & Exercises
Period tracking 
Bonus!

Womb journaling & tracking
Working with moon cycles
Period snack recipes
Want to read an excerpt? Check it out.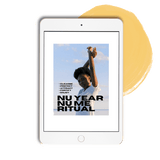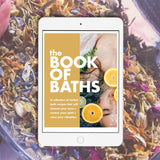 More from this collection